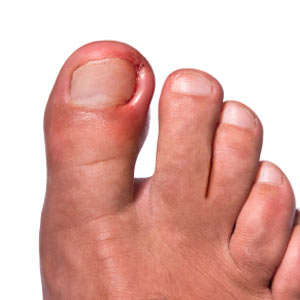 Ingrown toenails are a common occurrence, especially in winter. Causes can include improper toenail cutting techniques, tight footwear, trauma, and picking/ripping toenails. Our team at One Point Health has extensive experience in dealing with ingrown toenails and the most up to date treatments that are available.
Treatments range from conservative packing of the nail to a more invasive minor surgery of the toenail.
Footwear and nail cutting education
Ill-fitting footwear is a common cause of ingrown toenails. Our podiatrists are able to assess footwear and advice of other styles which could be more suitable for your feet. The size of the shoes is also important to manage ingrown toenails.
Proper cutting technique of toenails can help prevent further pain and relieve pain from an ingrown toenail. We are able to help educate and give advice on how to best cut your toenails.
Onyfix – Nail Bracing
Onyfix is one of our new treatment methods for ingrown toenails. It is a revolutionary new pain-free and non-invasive nail correction system. This procedure is a simple, in clinic procedure that takes approximately 5-10 minutes.
It is an excellent option for those who are at high risk and have diabetes. It does not restrict you on activities such as swimming or using nail polish.
Nail bracing helps prevent relapse of ingrown toenails by correcting the nail through its natural nail growth.
Partial or Total Nail Avulsion
Nail avulsions are a common procedure done in the clinic to remove the sides of the ingrown toenails and by using some phenol, we can prevent it from growing again in the future and causing problems.
This procedure is highly effective and requires minimal downtime from your normal daily activities. From entering to leaving the clinic, the procedure will take approximately 1 hour.
Post procedure, you will be able to walk immediately afterward and be in normal shoes usually after the first redress appointment 3 days later.